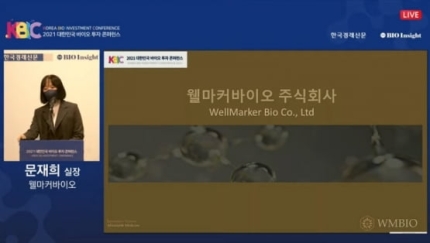 On December 7th 2021, Wellmarker Bio announced its recent Pipeline updates for WM-S1 and WM-A1 at the Korea Bio Investment Conference 2021.

According to Dr. Jai-Hee Moon(General Manager of the strategic planning division), WM-S1 program (Colon cancer treatment) is currently in Phase 1a study (Australia) in which the patient's biomarkers are being analyzed retrospectively. "The objective of this study is to evaluate the safety and tolerability of the oral administration. For Phase 1b study, a patient's biomarkers will be analyzed prospectively and the selection of appropriate patient groups will be preceded" said Dr. Moon. "Phase 1b study is designed for indication expansion and combinational approaches with immunotherapeutic antibody, PD-1 is also being considered. We hope to apply our treatment to Cholangiocarcinoma, NSCLC, Pancreatic Cancer, and Head & Neck cancer aside from colon cancer" she added.

As for the WM-A1 program(NSCLC treatment), it is scheduled to enter preclinical testing in the fourth quarter of 2021 in collaboration with Charles River Laboratories, a widely recognized CRO. The IND filing is planned for the second half of 2022. WM-A1 is a novel therapeutic antibody with immunotherapeutic effects in NSCLC and has demonstrated high immunotherapeutic efficacy in PBMC humanized model for NSCLC patients with low and negative PD-L1 tumors.

Wellmarker Bio is actively discussing out-licensing opportunities with global pharmaceutical companies for the WM-S1 and WM-A1 program and has raised a total of more than $60million, including its latest Series C round of financing in August, 2021.

The company is also planning to submit the application for preliminary review in 2022 to become a publicly listed company.